~I'm 18 years old, around 5'2- 5'3, and have long auburn hair and brownish eyes. I am many different nationalities, including Danish, English, Irish, and Cherokee. I probably look mostly English and Cherokee.

~I have a big family with Dad (Dale), Mum (Linda), Elliott, Katie, Paul, and Joy(ce). I also have two neices, Alana and Shilynn!

~I live a beautiful small town in Florida near Daytona Beach, and about 45 min. from Orlando.

~I am going to college at DBCC (Daytona Beach Community College) majoring in Graphic Design Technology.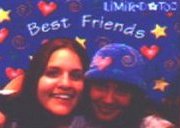 Above- Kez and me in a picture booth
Right- Kez and Shelli (and me kinda) in yet another picture booth!